SEO Cardiff Search Based Web Marketing Cardiff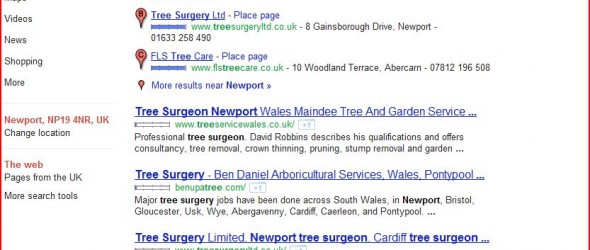 SEO Cardiff Search Based Web Marketing Services Cardiff Wales from Page One Web Marketing Cardiff Wales.
I use the phrase search based web marketing Cardiff very much tongue in cheek as our services actually cover anywhere in the world, I would like to dedicate this post to helping you to understand how Page One Search based web marketing Cardiff can help any business to increase it's return on investment in advertising by simply harnessing the power of the internet to get more qualified leads for services, or more customers for products that a business may sell (even if you are a service based business we will show you how you can sell products too) through search based web marketing.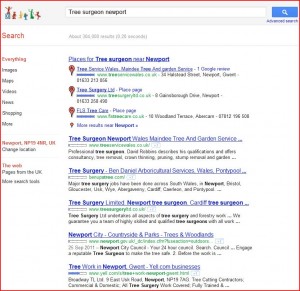 Page One Web Marketing Cardiff the best Seo service in Cardiff Wales offers effective web marketing at low cost for small businesses,Guaranteed results through powerful Search Engine Optimisation and total web marketing in Cardiff including web directory listings and highly Search Engine Optimised Videos!
In the picture you will see a local search for a business in Newport Wales that has two first page listings, and this applies to all businesses that we have helped increase their profitability and reduce their advertising costs over the past two years. That's right every Seo Cardiff Wales client of Page One Web Marketing has at least four buyer targeted keywords that they rank on the first page of all major search engines, and usually in position one!
Example Of One Of Our Client Videos That We Can Also Optimize For Search
Example Driving Lessons Site    Driving Lessons Video
So how do we do this?
To explain this in simple terms is very difficult because there is a lot that goes into seo optimising websites so that search engines just love them so I will use some simple facts that are right in front of you that you probably already know, but they are not necessarily brought to mind instantly.
Remember Yellow Pages just ten years ago, strong men tearing them (and that seemed impossible as they were so thick) well now yellow pages are almost the same size as a large magazine, and there is a reason for this just like there is a reason why ITV is struggling too.
Advertisers are finding out that whilst circulation is going down advertising costs are rising on traditional advertising media such as TV Press Radio and of course Yellow Pages and Thompson Local.
This is simply because businesses are finding greater return on investment from online web marketing than traditional advertising methods.
So what is Search Engine Optimisation and as a business  why should you care?
Search engine optimisation put simply is telling the search engines that your website is the most relevant result for the search entered, so if it's "web based marketing" entered then the most relevant result will be the top site presented based on the quality of the content on that site. Put another way telephone directories use the a to z system, which is why lots of businesses used to use AA as the start of their business name, search engines started out this way but have developed so that they can see quality, relevancy, and good varied content and that is in the main how they rank websites, back links or votes from other sites help too, but again search engines can quickly identify false links and quickly eliminate them.
Search Engine Optimisation is about getting more traffic by improving your rank in organic search. By organic search, I mean free search. So at it's root, SEO is about getting free long-term exposure for your business through search engine web marketing, the more exposure your business has with other sites such as web directories, the better and the great thig is that many of these directory site will actually send a link to your site without even asking, if the quality and traffic stats are good.
Recent estimates tell us that 70% of people under 50 look to the internet first for products or services, that doesn't mean that they will buy online, in fact 50% plus of those online searchers are simply finding businesses and comparing prices, but here's the thing That 50% tend to buy the product locally and obviously use the local service that they are searching.
So if you are not on the first page of search engines especially the big G then your business is leaving huge amounts of money on the table period, that's an undeniable fact of business today. Further to this almost 10% of those searches are on mobile devices and this figure is growing every day, so if your website is not mobile optimized then again your business is leaving money on the table, and this figure is growing exponentially, it is estimated that by the end of 2014 50% of these searches will be accessed via mobile devices.
This is why any web marketing firm such as Page One Web Marketing are growing daily. A word of warning however, there are many web marketing companies springing up across the web that are outsourcing their work to places like Pakistan, India and Malaysia where costs are a tenth of the UK but the sting in the tale is that they only know the basics of search engine web marketing, and they know even less about the English language.
Why does this matter to you and your web based marketing?
Search engine algorithms are becoming more and more complex day by day, they can tell a genuine local business website from the so called SEO search engine web marketing companies that continually send website owners emails like "check your ranking report now" and so on, if someone e-mails you or calls the number on your website offering SEO services, make sure you check them out, ask where they are based, ask them for websites that they have optimized.
Contact the site owner and confirm that they have done the SEO work, because 99 times out of 100 they have not. In my videos you will see local search optimized sites that we have put together for our clients that rank for every targeted "Buyer" keyword that they require, and this is usually from on site search engine optimisation that is simply done correctly in line with the guidelines set out by the major search engines.
So please remember whether they are presented as a web marketing agency, a web marketing company, or a specialist in search engine web marketing or simply web based marketing, check out their credentials first because most of them are just flat out deceiving you, inside our videos you will see the analytic account showing you the sites in our control, and then you see their search results so it's an actual fact that Page One Web Marketing services get results and get them quickly by only using the correct perfectly ethical in line with search engine guidelines methods that get businesses indexed and highly ranked, and this sticks.
The tree surgeon site has had multiple page one listing now for over two years, and continues to benefit from free client leads on a daily basis and this site is not pretty (he's a tree surgeon if his site was pretty people would think he was expensive) and this was all achieved by this web marketing company Page One Search Based Web Marketing Cardiff.
Not all web based marketing is equal, a web marketing company or web marketing agency is only as good as it's results, all of ours are page one!
Search based web marketing Services Cardiff Wales from Page One Web Marketing Cardiff Wales a quality ethical web marketing business that really cares about its clients.
We cover the following services Page One Web marketing wales, also penarth south wales, catering for small to medium web search engine projects we also cover web marketing bristol.
Put Simply Page One Web Marketing is the best service for Seo in Cardiff Wales and offers effective search based web marketing at low cost for small to medium businesses,Guaranteed results through powerful Search Engine Optimisation, web directories, video infomercials and web marketing in Cardiff
Seo Cardiff Wales Page One Web Marketing Services 

Search Based Web Marketing

Services
 Suite 28 Clos Meads, Pontfaen, Newport South Wales NP19 4NR Tel 01633 278673 or 07967 484465